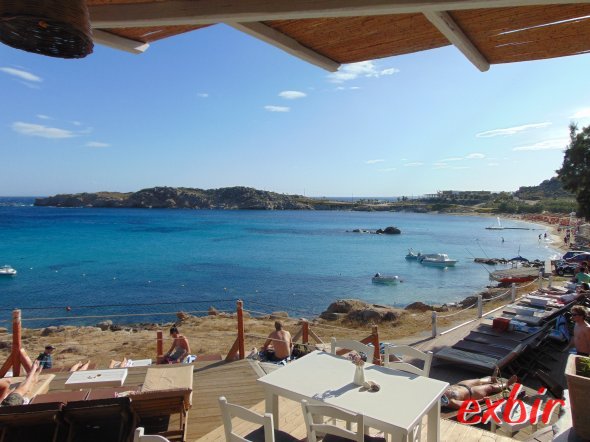 Its the perfect for Backpackers and young travellers. Basicly its a camping place wich turned in to a hostel and camping place mix. The hostel is basicly some small wooden houses wich house the dormitorys. The infrastructure is more like a camping place – so you have to walk a few meters for the toilet and shower. But they have hot water.
If you just wanna use the bed for sleeping and spend the day out enjoing Mykonos town or the beautiful close by beach – you are totaly fine. They also have a restaurant and bar and a pool with sunbeds and tables. Its easy to meet other backpackers here as it is full in summer time. The views over the bay are beautiful. Just a few steps away you reach Paraga Beach.
The public erea is really cool and more ressort style then hostel style - so it gives you the feeling of luxury travel with hostel kind cool people wich makes it special.
WiFi is only available arround the public area and reception and can be pretty slow when everyone is using it in the morning and late at night after the last bus returned from town.
A public bus to Fabrica - the main bus stop in Mykonos Town is in front of the door. You can also walk easily to famous Paradise Beach and Paradise Club wich are one bay after. A 5 minute walk. Beautiful at day time but no lights a night. There you´ll find also some Gyros pita for arround 2,50€ to 3€ - wich is cheap for Mykonos beach locations. Paradise is also one the island major party hot spots where the beach party with live music and dance starts in the early afternoon and lasts until the next morning.

So if you stay in Paraga, you are far enough away to sleep well and hear nothing, but able to join the party crowds within 10 minutes.

The hostel also offers free transfers to and from the airport and to and from the new port. When I used it, they arrived at the airport really quick and the driver was a super friendly summer worker and backpacker.

In my opinion defnetly the best and cheapest place in Mykonos with price from 12,50€ starting in summer – including the airport/port transfer.
You can book Paraga Beach Hostel&Camping via Hostelworld